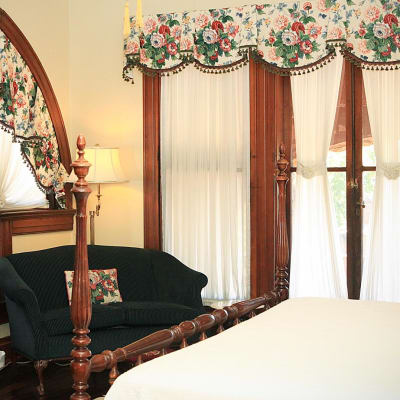 Amenities
Personal Touches for All Travelers
A refreshing change from busy, impersonal hotels! Our accommodations offer you the amenities of a luxury hotel with the special, personal touches one expects from a bed and breakfast inn. The variety of amenities, tastefully combining modern with historic, exceed the expectations of the most discriminating business travelers, long-term guests, vacationers, and romantics.
Guestroom amenities include king or queen beds; in-room color cable TV, central air and heat, flip-of-a-switch electric fireplace inserts (in most rooms), full private baths (many with whirlpool tubs) iron and ironing boards, fluffy towels and hairdryers.
Our friendly innkeeper offers personal concierge service to assist you with arrangements for dining, tours, and special events.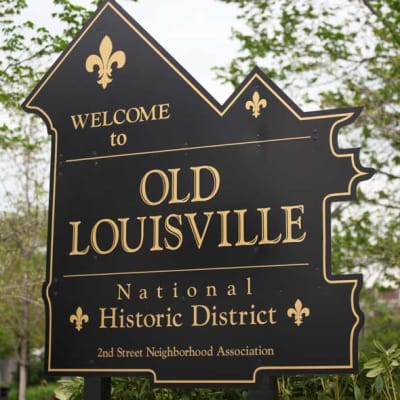 History
The "Queen" of Old Louisville
Built in 1884, the Inn was originally home to Russell Houston, a well-known attorney and president of the Louisville & Nashville Railroad.
The 7,400 square-foot Richardian Romanesque mansion has often been called the "Queen" of Old Louisville. It's located on Fourth Street right in the heart of Historic Old Louisville, our nation's second largest National Historic Preservation District and adjacent to Central Park, designed by Fredrick Law Olmsted, and just a block from St. James Court.
Fourth Street was an especially exciting place to live during in the late 1800's. In addition to concerts, balloon raisings, and other activities in Central Park, the great Southern Exposition, a huge industrial world'sfair, was held in the area annually from 1883 through 1887.
Old Louisville was developed shortly after the end of the Civil War in response to economic and population growth in the city and marked by the ever-increasing wealth of some citizens. A key factor was the installation of a streetcar system connecting the area with the financial and manufacturing centers near the Ohio River.
Herb and Gayle Warren purchased the mansion in 2001, and renovated the building into the beautiful Bed & Breakfast it is today.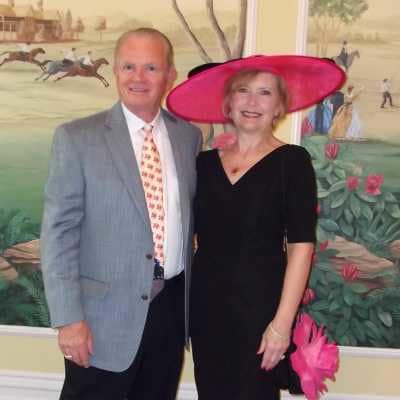 Owners
Owners Gayle and Herb Warren have tastefully renovated the Bed & Breakfast and created an elegant setting for special events such as weddings, anniversaries, luncheons, and celebrations. Your out-of-town guests will find the rooms convenient and accommodating during their visit.
Gayle is an active community leader and former president of the Leadership Louisville Foundation. Herb is a retired GE attorney. Both are entrepreneurs and are active in restoration efforts.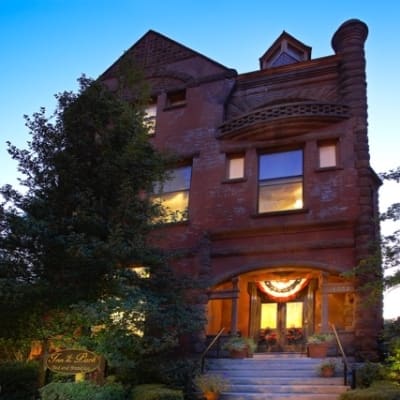 Directions
The exits for the Inn are directly off of I-65 North or South.
Directions, if traveling on I-65 South:
1. Take I-65 South (Toward Nashville) to Exit 134 at Arthur Street
2. Continue straight to merge onto Arthur Street
3. At the stop sign, turn right on to E. Brandeis Ave. Brandeis Ave will continue straight and turn into Cardinal Blvd.
4. Continue on Cardinal Blvd six blocks to Fourth Street
5. Turn right on Fourth Street and continue six blocks to the Inn at the Park (on your left)
6. Free Parking is available on Fourth Street in front of the Inn OR beside the the Inn on Park Avenue
Directions, if traveling on I-65 North:
1. Take I-65 North (toward Indianapolis) to Exit 133 at Warnock Street
2. At the end of the exit ramp, turn left onto Warnock Street at the traffic light
3. Continue on Warnock Street to the second traffic light at S. Floyd Street
4. Turn right on to S. Floyd Street and go five blocks
5. Turn left at Hill Street, then go five blocks to Fourth Street, then turn right
6. Continue on Fourth Street for two blocks to the Inn at the Park (on your left)
7. Free Parking is available on Fourth Street in front of the Inn OR beside the the Inn on Park Avenue
Directions, if traveling on I-71 South:
1. Take I-71 to I-65 South (Nashville) South to Exit 134 at Arthur Street
2. Continue straight to merge onto Arthur Street
3. At the stop sign, turn right on to E. Brandeis Ave. Brandeis Ave will continue straight and turn into Cardinal Blvd.
4. Continue on Cardinal Blvd six blocks to Fourth Street
5. Turn right on Fourth Street and continue six blocks to the Inn at the Park (on your left)
6. Free Parking is available on Fourth Street in front of the Inn OR beside the the Inn on Park Avenue
Directions, if traveling on I-64 West:
1. Take I-65 North (toward Indianapolis) to Exit 133 at Warnock Street
2. At the end of the exit ramp, turn left onto Warnock Street at the traffic light
3. Continue on Warnock Street to the second traffic light at S. Floyd Street
4. Turn right on to S. Floyd Street and go five blocks
5. Turn left at Hill Street, then go five blocks to Fourth Street, then turn right
6. Continue on Fourth Street for two blocks to the Inn at the Park (on your left)
7. Free Parking is available on Fourth Street in front of the Inn OR beside the the Inn on Park Avenue
Directions, if traveling on I-64 East:
1. Take I- 64 East to I-65 South (Toward Nashville) to Exit 134 at Arthur Street
2. Continue straight to merge onto Arthur Street
3. At the stop sign, turn right on to E. Brandeis Ave. Brandeis Ave will continue straight and turn into Cardinal Blvd.
4. Continue on Cardinal Blvd six blocks to Fourth Street
5. Turn right on Fourth Street and continue six blocks to the Inn at the Park (on your left)
6. Free Parking is available on Fourth Street in front of the Inn OR beside the the Inn on Park Avenue